The juniors and seniors of Econ 455: US Economic History were recently invited to discuss our research on Keene's industrial history with leaders in the business community.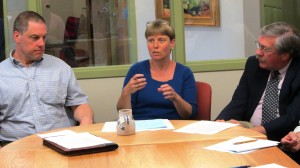 Mary Ann Kristiansen of the Hannah Grimes Center for Entrepreneurship faciliated the meeting of business leaders and students.
Ray Anderson of Knappe and Koester had given our class a tour of his cutting-edge machine shop earlier in the semester.  He feels the pressure of international competition sharply, and maneuvers carefully to innovate and expand while cutting costs.
Don Brehm founded Pneumo in 1962 with his invention, the air bearing guage.  Mr. Brehm told us that passion makes the difference, and government contracts played a key role in the growth of his business.
David Schuster explored the industrial cluster spauned by Pneumo with metrology, diamond turning machines, and optics in Keene.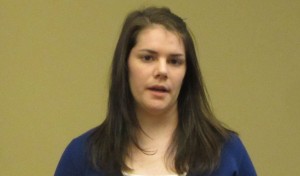 Michelle Patridge described how an industrial cluster promotes innovation.
Greg Hall discussed the industrial history of the Connecticut River Valley, including Pratt and Whitney in Hartford, and Bryant Grinding in Springfield, VT.

Francis Bonnell (sitting with Norm Fiske of RCAM) discussed the printing business at Markem under F.A. and David Putnam.
We were enthused to learn that Ken Abbott's ABTech is a family business, with three generations participating.  ABTech makes air bearing guages today.
Maureen Curtis of Timken MPB reminded us that a good financial expert can shine the light on the origina of  profits or losses.  She also echoed a sentiment we had heard from our interviews: not enough young people are attracted by manufacturing careers.  Student Chris Hinchey discussed how MPB came to Keene and founded precision grinding here, and Joe Katin discussed how Timken had invested against the cycle in a smelting plant in the early 1980s, using the latest technology from Japan.
Dan Bayrouty discussed that machinists like to be maanged by hands-on people, which is one reason workers on Springfield, VT were unhappy when Textron bought out Fellows Gearshaper, Bryant Grinding, and Jones and Lamson in the 1970s.  Pat Murphy explained that sales of machine tool firms are extremely cyclical, and in downturns the conglomerate may favor businesses that are less impacted.  Joe Bohenek discussed the culture of innovation promoted by social ties between technical people; for example, the Keene Astronomy Club may foster ties between people who make lenses.
 Jim Pelto teaches the next generation of young people who will go into manufacturing at Keene State's Sustainability and Product Design major (SPDI).  Norm Fiske brings the educational community together with business needs through the Regional Center for Advanced Manufacturing (RCAM).