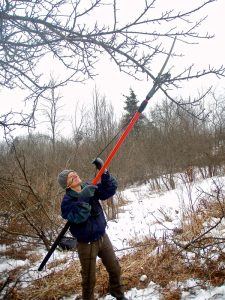 Tatiana Schreiber received her B.S. in Rural Sociology and Nutrition from Cornell University; her M.A. in Mass Communications from Emerson College; and her Ph.D in Environmental Studies (Environmental Anthropology) from Antioch University Graduate School in Keene, NH Her graduate work examined sustainability and resilience among coffee and cacao growers in Chiapas, Mexico.
She has taught environmental anthropology, current environmental issues, agroecology and writing courses at Keene State and at other area colleges (SIT, Union Institute, Hampshire College, Marlboro College and the Community College of Vermont) for many years. She is also a Research Associate with Rich Earth Institute in Brattleboro working on social issues associated with the diversion of human urine from the waste stream for re-use as an agricultural resource.
When not teaching, she operates a small farmstead, Sowing Peace Farm, in Westminster West, Vermont where she sells organic heirloom and unusual seedlings. Another current interest concerns the possibilities for dual-use of solar arrays for both energy and agriculture – a practice sometimes called "agrovoltaics."
She draws inspiration for her teaching from the complexity of interaction among plants, animals, insects and microorganisms in her gardens: everything is connected and nothing is as simple as it seems.